Let the Reading Begin!
Grade 4 started their Reading Buddy Program with the children from Ganon this past week. We all met in our library and quickly begin choosing picture books to read. It was wonderful to see the students talk and read with their little buddies. One student showed her natural teaching abilities by helping her buddy learn to read by sounding out the words with her. Another student found it a challenge to keep his buddy still while he read. It was an excellent first session. We cannot wait until we see our reading buddies again next month.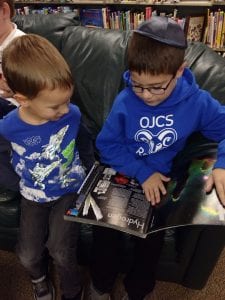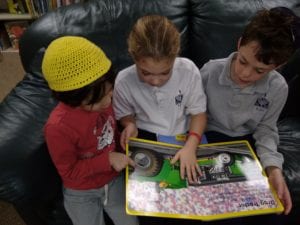 We made another visit to the library to visit the Biography section. Brigitte helped each student choose a biography to read for an upcoming project. There was an extensive selection of biographies to choose from. Some students wanted to check out two or three books just to learn about different fascinating people. I had to convince them to begin with just one book to read. I have a feeling that some children will be visiting Brigitte this week to take another look in the Biography section.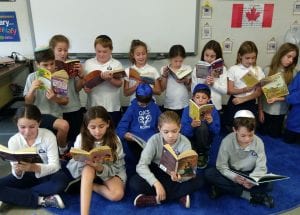 Read to Succeed
This month our class joined the Read to Succeed literacy initiative with the Sens in Schools Program. Read to Succeed aims to help motivate students to read on a daily basis. Each month the class will set a group reading goal that will be challenging and achievable. This month we set a goal of reading 3 400 pages together. We surpassed the goal within five days. One student thinks we can easily read 13 000 pages a month. There are some voracious readers in the class who are motivating their classmates to read more. We will be setting different goals each month to keep things interesting. Our goals may be set for the number of books we read, or the number of minutes read. Whatever the goal may be, the children will work hard to achieve it. For goals achieved our class will be put into a draw for some prizes. A possible visit from a Senators player happens to be my personal favourite prize. Some students think it is funny that that a reading initiative comes from the Sens at School program because hockey players don't read. We might just have to challenge that assumption.
I have always told my students that the more you read the more you learn. I am looking forward to a year full of learning.