Guest Blogger of the week- Shylee
I hope you have fun looking at what Grade 4 did this week. Our class is doing the school reading challenge, and so far we have read 396 books. Our goal is to read 600 books. We might even have to make our goal higher.

In English class we have been practicing our interviewing skills. This week we interviewed our reading buddies from Ganon on what they liked to do, their hobbies, etc….  We are going to be interviewing the residents of Hillel Lodge for an upcoming project.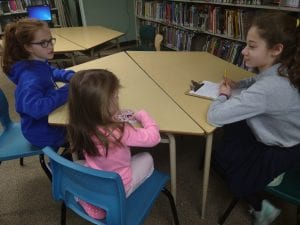 We also took part in a Research Workshop about using key words instead of typing long questions into Google. We have also been practicing our research skills in class too.
In French, we have been working on a new unit. The new unit that we are working on is sports. We have been doing a little project at home about an athlete.

In Art, we have been doing a project about a fox. We will be putting the artwork in the hall of the school.

In Hebrew we have been practicing for the Tu B'Shevat Seder that we will be having at Hillel Lodge. We have been practicing a play to perform for the residents. Liam and Inbar have been helping us get ready. We will be performing a song as well. This is a video of  some of my classmates singing (notice Dr. Mitzmacher  listening in the background)

Today we did a special activity with Morah Ada. For 'Ivrit Be'Kef (fun in Hebrew) Devorah (Joey) and Ma'ayan (Mia) translated a recipe to Hebrew and gave us the instructions of how to make the cookies.
This is Mrs. Bertrand who helps us organize with all the Knesset meetings. I am the class rep for Grade Four, and I love going to all the meetings and helping organize activities at the school.
Being a blogger was an awesome experience. It was hard taking the pictures during the classes because people were moving a lot. Putting it together on the blog taught me how to embed pictures and videos and learn how to type better and edit my work. I am looking forward to being a blogger again.