Blogger of the Week-Gabriel!
Hi, I am Gabriel and I am the blogger. I am SUPER excited to show you what the awesome class of 4B did last week!
We are learning some volleyball skills in Gym class. All the students are getting pretty good at bumping the volleyball. We cannot wait to have a real game of volleyball.

We are busy in Core French learning lots of French. We are reading a book about crazy pirates who meet indigenous people who greet them nicely, but we are still only on chapter 1 and we don't know what will happen. We are also working on our ideal school project. Some students are making their school in Minecraft, some people are working on a diorama, and some students are working on a drawing. I did a drawing of my ideal school. I would love to have a cinema in my ideal school!
I love Art class! The school is having an Art Show soon and all the students are picking their favourite pieces of art and doing a reflection. Here is a reflection about the artwork.

The big excitement of the week was Public Speaking. Each day we listened to a few speeches from our classmates. The topics were amazing! We heard speeches about Military Inventions, Expressions, How much Sleep kids should get, Germs, Golf, Poverty in Ottawa, Dogs, Soccer, How my brother changed my life, Littering, Poaching, Video Game addiction, The Earth, How much technology should kids use. Everyone did a terrific job presenting their speeches. We wish our three finalists good luck in the Public Speaking Finals on May 10th. We hope they do well in the Public Speaking Finals.
In Hebrew, we focused on Yom Ha'Shoah this week. Morah Ada, Liam, and Inbar had different activities with us. Wednesday we went to the Chapel, where Liam and Inbar created a memory room. It was like going to a museum about the Holocaust. There were candles lit to remember all the people who died. We learned about the children, the yellow star of David that the Jews had to wear, the Righteous Among the Nations, who helped many Jewish people during the Holocaust and much more. Morah Ada then read us a story and we shared stories from our own families.
The next Day we watched a movie and participated in an interesting activity with posters choosing what represented the Holocaust for us. We also participated in the school assembly. It was very special and very meaningful.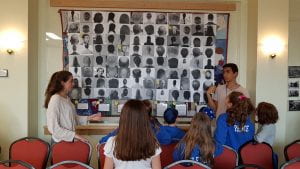 On Friday we had a nice surprise when we saw that we had some comments on our blog from a school in France. We were so excited to see the comment that we all got up cheering and clapping. A student recommended our blog to other schools and said that we were good at French. We spent some time visiting their blog and commenting in French. Here is something a student in France said about our blog.
I liked blogging this past week it was harder to do than I thought. It was fun taking pictures. Thank you to Mia for helping me with the blogging.