Kindness, Connections, and Caring in 4th Grade
The last two and a half weeks have been full of special and meaningful moments in 4th Grade. We have had the opportunity to visit Hillel Lodge twice and connect with our friends there. The first visit had us baking sugar cookies with Barbara and boy we found out that we sure can bake. Our cookies were delicious!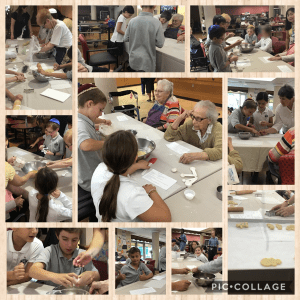 The second visit had us learning how to make shofars with Rabbi Blum. We all took turns in making the shofar and we enjoyed the whole process.
Since our workshop was on a Friday we got to celebrate Shabbat with the residents and Rabbi Blum. We really enjoyed praying and singing together for Shabbat. It was the perfect way to get ready for Rosh Hashanah. I have to say that Morah Yardena found it to be a very moving experience watching the children and the residents together.  We might have had a few tears in our eyes as well.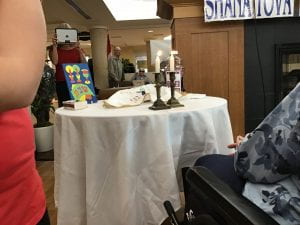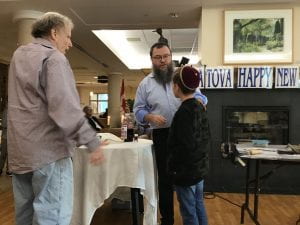 This picture below captures what our visits to Hillel Lodge is all about making connections.
Last week the Grade 4 classes were introduced to a new program called the Privilege of Giving where we will volunteer our time to help out at school. Each week a few students will be chosen to take part in the Privilege of Giving. Dr. Marcovitz will visit 4A and 4B  each Friday to watch the chosen students write their names into the special giving book. The students then get to help out around the school. Our first two students Emet and Talia had the pleasure of accompanying Dr. Marcovitz on his Friday class visits to ask wonderful questions and hand out stickers. The students will get to help out in the school this week too. One student wrote that Each step of kindness is a step in changing the world. Dr. Marcovitz and I cannot wait to see all the kindness and giving that Grade 4 will do this year. I have a feeling it is going to be a great year!
We have also started The AYT (Aseret Yimei Teshuva) Challenge. We will focus on positive speech for one hour every day including weekends, and holidays. The challenge began last Friday and will continue for the month of Tishrei. The students have been using their positive speech throughout the day and have been staying away from Lashron Hararh. Morah Yardena and I been doing activities with the students to show that positive words matter and it is hard to take unkind words back.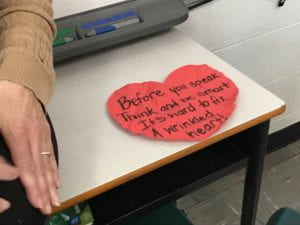 The Grade 4 Team wishes all of our families an easy and meaningful fast.
Teaching and learning about kindness with toothpaste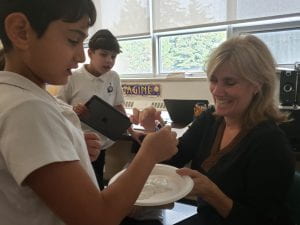 "Words are like toothpaste…. easy to come out, but almost impossible to get back in."
Grade 4 was quite impacted by this experience and realized how much their words matter and the effect that they have in others.
Our grade 4 students worked well together to come up with kind words to say to others as well as the many ways they can practice being kind to one another at school and at home.