Global Maker Day 2019
This past Tuesday was Global Maker Day 2019.  The students in fourth grade loved taking part in a day full of collaboration and creativity with schools from around the world. The host school was Scheck Hillel Community School in North Miami Beach, Florida. Our classes loved watching the students from Scheck Hillel present and talk about the different projects they worked on for the playground, Pesach, and Vhardartah Pnei Zaken. The live stream of the event made us feel like we were right there, it was so cool!
Many challenges were issued throughout the day and the students had a choice of what they wanted to design, build, and create. There was a buzz in the room as the students chose their groups and started to brainstorm. Materials were chosen, the building began, and absolutely everyone was engaged and having so much fun.
The most popular challenge was building a piece of equipment for the playground. The class as a whole decided the equipment they built would be geared towards the Grade 4 students for a designated older playground for our yard. Do you think Dr. Mitzmacher would approve of a rock climbing wall? We think he would! 🙂 Carnival toss games and climbing structures were also built. The students were so excited to share their work with their classmates. One student made a wrist iPhone holder. A handy robot holder and a trash wagon were other interesting creations of the day.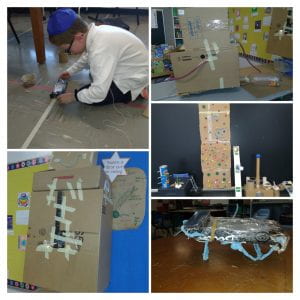 We ended the day by making Flipgrid videos of our work and sharing it with other students. We tweeted out some pictures and received lots of attention from the Global Maker Day organizers.
Global Maker Day was awesome. We were inspired to be innovators, problem-solvers, and share our work globally. We cannot wait for our new school Makerspace to open. It will be great to have such a wonderful space to make, create, and innovate. One of these students just might make the kippot making machine that we keep talking about you just never know. Perhaps we should be researching all about patents too.