Blogger of the week- Olivia
Hi my name is Olivia
I'm the blogger of the week and I will tell you what grade 4 did this week.

Monday
We had Hebrew first thing in the morning and we worked on our presentations about our daily routine. We had a mystery skype with another school in the afternoon. We had to guess where the other class was from clues from the students. The class was from Montgomery Alabama. Here are some pictures Adam L gave the other school some clues about where we live. The clubs at lunch on Monday were the Israel Games club and Leafs club.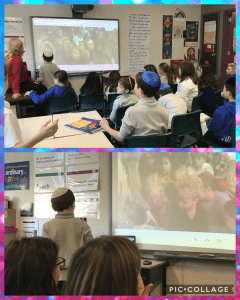 Tuesday
On Tuesday the Book Fair was getting ready so no one could buy until 12:00 . I did not bring my money but some other kids brought their money for the Book Fair. There are some clubs on Tuesday, a Choir club, a dance club, and an Art club.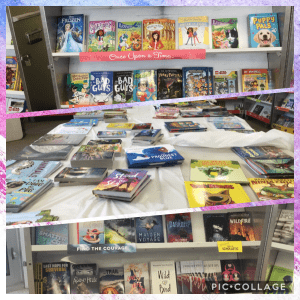 Wednesday
On Wednesday we had Hebrew first thing in the morning. During Hebrew, we did homework and Tefillah and we had a snack. The clubs on Wednesday are Detective club, French club, Comic making club, and Boardgame club.
Thursday
There are Scavenger Hunt club, Sports club on Thursday. We went to the Book Fair and some of us got some things at the Book Fair. I spent a lot of money on the book fair on toys and books and school supplies like pencils, pens, and more.
Friday
We had Gym first thing in the morning we sang the Anthems in the gym we played Bench Ball and we had a choice of what we wanted to do for the rest of the class.
There are a lot of kids in Grade 4 running clubs this year like I do. Sarah and I run the Scavenger Hunt club Sarah and I have three helpers for the club they are Monica, Talia, and Eden.
Adam L. and Adam P. run comic-making club. Lily and Charlotte run the Board Game club. Sam, Sacha, and Eliezer run the Sports Club. Well, it's the end of the week so bye.
Week #8 Student Blogging Challenge
This was the last week of the blogging challenge and some of the students reflected on which week they liked best in the challenge. We also did a survey as a class to vote on our favourite activities throughout all eight weeks.
Blogging
 My favourite blogging challenge was my favourite activity and music. I liked the music challenge because I like making songs. I like my favourite activity because I like using my computer and also I like talking about skiing and what I like about it. I think we should go on a field trip and bring ipads and blog about the field trip.I also think we could make Qr codes there and then do a video chat and show our Qr codes and they will do the exact same thing!  By Lily
My favourite blogging challenge was the music challenge. I liked sharing my favourite song for the playlist. I also got to share a project that I did for music class. My project was on the JonasBrothers.  By Charlotte
Hi, my name is Adam. I like to blog about technology. For example robots and games. 
My favourite blogging challenge was writing about my favorite Jewish Holiday. My favourite blogging challenge was doing the music on garage band.  By Sacha
Why I like the blog! 
I like the blogging challenge because it is so fun. We get to learn how to blog. We also get to have new things every week! By Eden