Throwback Thursday Part One Blogger – Eliezer
We are taking you back to the week of December 9-13th
My name is Eliezer and I am the blogger of the week.
Monday:
In English, we worked on measurement we are learning about metres, centimeters, millimeters, and decimeters. We have a math booklet that we are working on and if we finish that we have a second one. Monica, Sam, and I went around the school and measured the perimeter of the seating area in the foyer, the art bulletine board, and the hallway. We had lots of fun measuring the perimeter of these areas.
Tuesday:
Today we were working on the global math challenge where we hade to make the number 24 with 8, 8, 7, and 3. I came up with two answers this was my first.
I was not the only person that found answers. Lily found two answers and Zoe and Monica together found two.
Wednesday:
We learned about alliteration.
Alliteration is when words start with the same sound.
There was a rap that we saw(that Sam really liked and always sings it).
Thursday:
We went to the library to do a research workshop with Brigitte. We had to pick a Singer / Athlete / Actor / Scientist. I picked an Athlete named David Beckman who plays Soccer. Other people got: Gal Gadot, Albert Einstein, Taylor Swift, and Michael Jordan.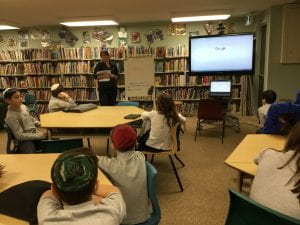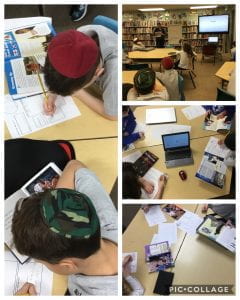 Friday:
We missed Gym to do the rehearsal for the assembly, we have four songs we are doing; Begin with the end in mind, Put first things first, Think win-win, our OJCS anthem, and a song in Hebrew.