Senators Reading Challenge
Hi, I'm Adam and I am going to talk about the Grade 4 class reading challenge with the Ottawa Senators. OJCS and their Grade 4 classes are doing amazing. Almost every single month they get over 10,000 pages and surpass their monthly reading goal. The challenge is to meet the reading goal we set for our class each month. Classes who meet their goal have the chance to win a prize. The prize is a class pizza party with SPARTACAT!!! Our teacher encourages us to read every night, not as homework! This is just me but I'm into it. Hey! that gave me an idea. Let's have a survey if people like reading not as homework. Out of 100%,20% said no and 80% said yes. One person said, "Yes because then you have an excuse to stay up later".
Here is the first month, September. We couldn't believe that we read 17000 pages.
We read 15 000 pages in October which is still pretty good because we had all the holidays.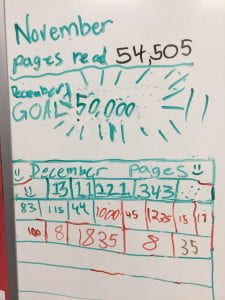 This is our latest reading of the month!JANUARY!
We really like reading! I think we will surpass our February Goal. Hey, what is our February goal? Let's ask Mrs.Bennett! Our goal is 30,000 pages! I love reading graphic novels.
Here I am adding up the pages we have read in the month. Different students take turns doing the math and figuring out how many pages we read throughout the month.
Teacher's Note: I love how much the classes are reading this year. In my defense, I do tell the students that they should not stay up to midnight reading 🙂  A couple of students have told me they do the opposite and get up early each morning to read.