A Trip Back in Time
Oh, how time flies! It is hard to believe we have been learning online for two and a half months. We thought it would be fun to take a little trip back in time to highlight some of the activities and holidays that have taken place.
Israel Connection
We connected with a Grade 4 class in Tel Aviv a few times. Here is a little piece Sarah wrote on how we got ready for our first meet:
Hello, I am going to be talking about our 'special Google Meet.' (it's a Zoom, though);) so for this, we are going to be meeting another country. We have no idea what country yet, but we will be asking questions to them. They will give us clues, and soon we will be able to find out. Some of the questions were: Do you live in a small or big country? Do you live on an island? After we got all the questions answered, we figured out they lived/came from Israel! for our first meet.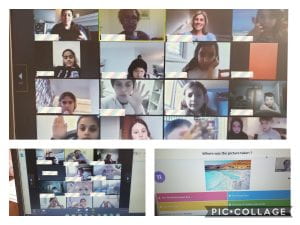 We loved talking with each other about learning Hebrew and English and about our favourite Jewish holidays. We also talked about how we learn from home, and how Yom Ha'atzmaut celebrations would be different this year. During a follow-up meeting, we played a special Kahoot game to learn about our countries. We ended our sessions by saying, even though our countries are so far apart, we are connected by our hearts. Gali Ben Avri, the English teacher, also invited us to meet the mayor of Tel Aviv: we were so excited. Unfortunately, our meeting was canceled when businesses and schools were opened up again in Israel.
Yom Hazikaron
The Grade 4 classes had a special guest visit our virtual class for Yom Hazikaron. Tobin Kaiman talked of his firsthand experiences as a former lone soldier in the I.D.F. The students were engaged throughout the talk and asked meaningful questions. They were very surprised to learn that our special guest was also Morah Yardena's husband. Tobin was also my student in first and second grade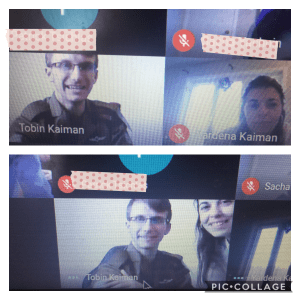 Yom Ha'atzmaut
We celebrated in seven minutes and 20 seconds with Dr. Marcovitz. We also created some poems and songs about why we love Israel. The day ended beautifully with Yom Ha'aztmaut celebrations streamed in from Israel.
By: Eden                                                 
Your flag is blue and white,               
You shine a very bright light.
The people are strong,
We sing your song,
The land of milk and honey.
Israel Haikus
by Emet
 Israel's awesome
 Duh obviously
 I like falafel  
 Magen David and
 Tallit stripes blow in the wind
  Flag of Israel
ישראל הייקו
5.מגן דוד ו- 
7.תליית פס נשוף רוח
5.דגל ישראל
Grandparents' Day
It was special welcoming all of our grandparents into our virtual classroom. We had grandparents from Israel, Vancouver, Montreal, and Ottawa come and spend time with us. We had a chance to share a special video about the kind and caring activities we did this year. Time was also spent discussing mitzvahs our grandparents did as children and making a plan to show kindness in the future.
I

Public Speaking
This had to be the event that most of the students were waiting for in 4th grade. We started to prepare ourselves for this event in 3rd grade by holding our own in-class public speaking day. The students knew that by the time they hit the 4th grade the speeches they wrote and presented could get them into the finals to compete against the 5th-grade students. All I can say is each and every speech was terrific. Morah Yardena and I learned about endangered animals, dogs, cats, the heart, viruses, stress, keeping Canadian waters clean, and nature. We wish our top six finalists good luck as they head to the Public Speaking finals next week.
Maccabiah Games
It was a day full of fun and ruach.  Students, parents, teachers, all took part and had so much fun. The missions were terrific and creative. The captains taught us dances and songs. Special thanks go out to Mrs. Bertrand and the whole organizing team.