Tales of a Fourth Grade Class
The first two weeks of school have been busy and productive. All of the students are settling into a nice school routine and are ready to learn. Class jobs have been assigned and the students are learning to do their part in making our class run smoothly.
I have signed up both classes to take part in the Sens at School reading program. Each month we will set a reading goal for our group. This month we have a set a goal of reading 5000 pages as a combined group. Each one of the students excited to take on the challenge of reading at least 225 pages. The classes get a chance to win a pizza party with Spartacat if they meet their monthly goal. I told the class that I am feeling very hopeful that we will win this year. Everyone took out a book from the library today to begin their reading challenge. I absolutely love seeing the children get so excited about reading. My favourite saying is 'The more you read the more you learn.' I am already dreaming of all the learning that will take place this year.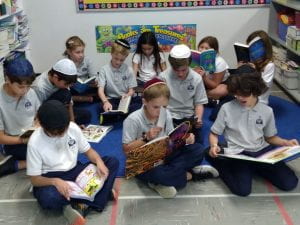 We have started reading Tales of a Fourth Grade Nothing by Judy Blume. Many students can relate to the main character Peter Hatcher as he deals with his mischievous little brother. I am impressed with how beautifully the children are reading aloud. Perhaps we will get the opportunity to be guest readers in the younger grades someday. We have been busy writing journal entries, reading responses, advice columns, and creative story writing too.
Would you believe we started off the year with equations? Well, we did, to get the students to learn to ask questions, lots of questions. The students were uncomfortable at first but they slowly started asking lots of questions, comparing questions with their friends. Research shows that students who ask good questions learn more. The students wanted to know why the math sentence was backward and what on earth the smiley faces meant. We talked about how the equal sign could go on any side. The children then started solving the equation and making their own equations.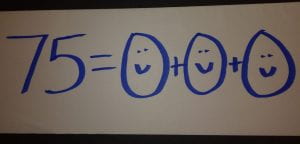 This week we have worked on patterning. We have been focusing on patterns with multiple attributes,  number patterns, patterns in t-charts, measurement patterns. We are also learning to solve problems with a patterning strategy. As the children finish their patterning work they start to challenge themselves with more equations. Something magical is happening here.
Pulleys and Gears is the first science unit of the year. The students have been busy asking good questions, reading, and conducting research on pulley and gears. We will be getting ready to design and build our own pulley and gear systems. It should be exciting as we start the building process.
Our Social Studies class is learning about Canada through maps. We have already had two map challenges and the students are proving themselves to be map experts. We are also learning to ask lots of good questions and find the answers through research. We will be starting a Canada project soon.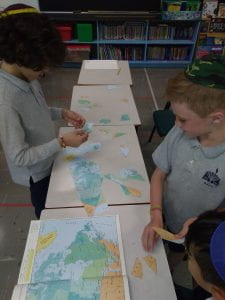 I introduced Genius Hour to the students today. The Mission Impossible song was playing and the class became very quiet. They were thrilled to hear they will get to choose a passion project to work on once a week. The students are full of innovative and creative ideas. Genius Hour was a huge success in grades 5 through 8 last year. Some of the lower grades will be working on Genius Hour this in their classes this year. I cannot wait to see all the imagination and creativity at work.
Our weekly class blogger will start again soon. The students are ready to report and document the tales of a fourth grade class.