A special week in 4A & 4B
Tu Bishvat
Tu Bishvat is a holiday where we celebrate the birthday of the trees and the fruit that grow in Israel. The fruits are 
Wheat
Barley 
Grapes
Pomegranate 
Olives
Dates
 We had a Seder where we said the different blessings and ate these fruits. We had lots of fun here are some pictures. I liked celebrating Tu Bishvat in my class.
By Noah
JDAIM2020 Door Decorating Challenge
February is Jewish Disability Awareness Acceptance &Inclusion month. The Knesset brought forth the idea to have all classroom doors decorated to showcase how important we feel about acceptance and inclusion for everyone of all abilities. Morah Yardena and I had fun working with the children to decorate our classroom doors. Two of our North Stars at the school are We learn better together, and Each person is responsible for the other.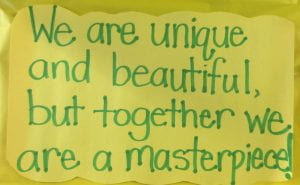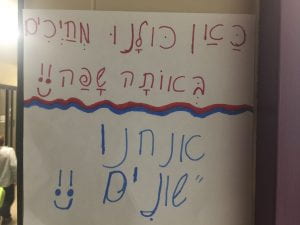 והדרת פני זקן Vehadarta P'nei Zaken Project
This past Wednesday the grade 4 class is started a special program called והדרת פני זקן Vehadarta P'nei Zaken: Respect the Elderly.  It is an intergenerational program that will links the children with residents at Hillel Lodge. The goal of Vehadarta P'nei Zaken is to provide the children with an enriching opportunity to establish a relationship with an elderly person and learn about his/her lifetime achievements. In return, the Hillel residents will have the opportunity to make a connection with our students.
On Wednesday the students had the opportunity to meet their residents and get to know them and start the interview process. It was wonderful to see the interaction between the students and the residents. The students were very sweet, polite and great interviewers. One student was lucky to be paired up with her Zaidy for the interview. Marilyn who runs the program was touched when she saw a resident smile for the first time in a very long while. I have to admit I teared up when I saw Marilyn get emotinal. It is such a beautiful program.We will conduct our second round of interviews after the February Break.
In addition to the interview, we will have other opportunities to share time together, (such as Shabbat, Passover Seder, lunchtime chat/games, etc…) build a rapport with the residents and thus enhance the students' appreciation of the elderly while engaging in this worthwhile activity. 
The students will then work on writing narratives about the residents' lives. A final presentation will be prepared and to be presented to the residents and their families.