4B Blogger of the week -Sam
General studies
This past week we had a guest from Hillel Lodge her name was Marilyn. She came and told us that we are doing a project with the seniors. We will be paired up with a senior and we are going to ask them a lot of questions and they will answer. The project is called V'Hadarta P'nei Zaken. We are all so excited to get to know the seniors better.
This week we got to choose our homework. We had to choose 2-3 math pages and write 2-3 paragraphs. Everybody loved it!
We also got to have reading buddies with grade one. We took flip grid videos of them reading. It was pretty cute.
This week we worked practicing time in math class. Ms. We were working on elapsed time and telling time to the minute. Ms. Cleveland took kids out to get ready for our next unit on multiplication.
This week we had a sports club. We played soccer. It was so fun. We also have gym 3 times a week. This week we played power-ups, castleball, and benchball
We have a new student in 4B (Noah)we are all having a great time with him and we are happy he is in our class.
Each day we start off by reading quietly at our desks.  We are taking part in two reading challenges this year, a school-wide one, and one with the Ottawa Sens.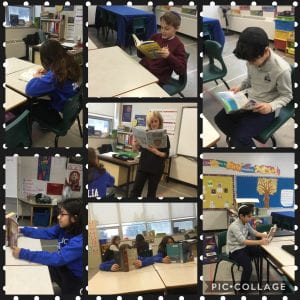 Francais
Voici quelques presentations de nos projets sur les sports
Hebrew
We learned about respectful words and we wrote sentences with the words we learned.
In Hebrew, our grade started making clay sculptures for Sepher shmot.We are all having so much fun.